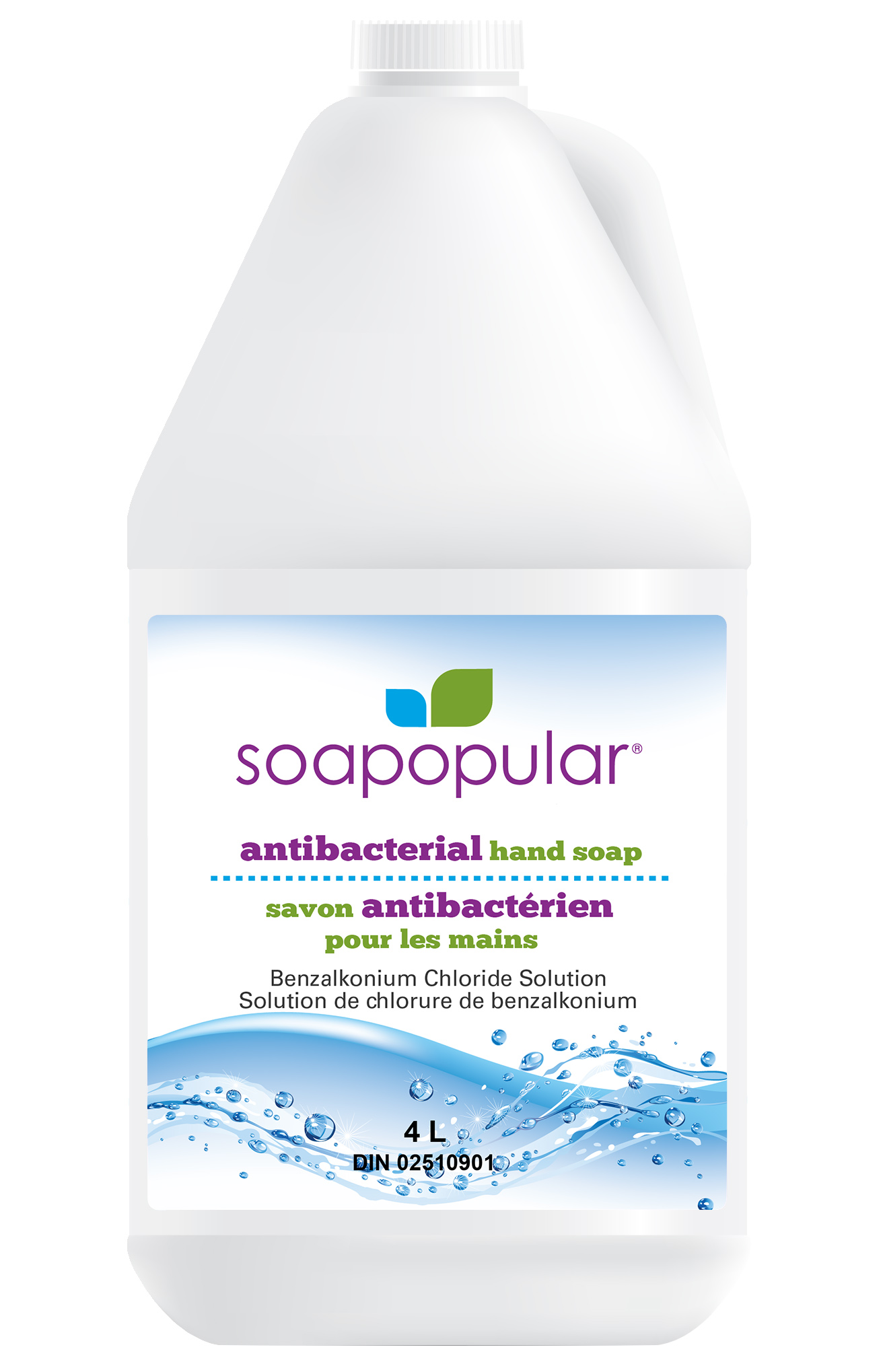 Soapopular® Antibacterial Foam Hand Soap 4L Jug
Soapopular® 4L Antibacterial Foam Hand Soap Jug is our largest commercial-sized refill jug that provides up to four refills with Soapopular® compatible Automatic & Manual foaming dispensers. 
Additionally, the 4L Foam Hand Soap Jug can be used together with our attachable 4L Foam Pump allowing the 4L to dispense 10,000 applications! 
Formula Colour:
Product Size:
Scent/Odour:
Formulation:
Applications:
Active Ingredient:
Units per Case:
Cases per Pallet:
Clear/Colourless
4L
Mild Scent
Liquid
10,000
Benzalkonium Chloride (0.15%)
4
48

Triclosan Free
Paraban Free
Alcohol Free
Kills Germs & Bacteria
Dye Free
Mild Scent
Hypoallergenic
Rich Foam Formula
Safer for kids
Gentle to the skin
Non-Drying to hands
Non-Flammable

Soapopular® Foam Alcohol Free Antibacterial Hand Soap provides a complete hand-washing experience by killing harmful germs & bacteria while cleaning your hands. Made without the use of harmful ingredients such as Triclosan & Paraban, our hypoallergenic formula is safer for children and those with sensitive skin thanks to our Dye Free foaming solution. 
Reduce dryness, irritation, and discomfort by using our registered, certified, & trusted Foam Antibacterial Hand Soap products.
Health Canada DIN Registered: 02510901 & CFIA Certified.
Does not include harmful ingredients such as Triclosan & Paraban.
Provides a thorough disinfecting hand-washing experience for schools, offices, food service, hospitality, manufacturing, medical, and  more industries where hand hygiene compliance is a necessity
Reliable and consistent efficacy that kills harmful germs and bacteria on the skin while washing your hands. 
Rich Foam formula reduces irritation and dryness on the skin making it safer for children and for those with sensitive skin.
Hypoallergenic formula is Dye Free to reduce skin discofort.
Hand Hygiene is supported & recognized by being the single most important means of preventing the transmission and spread of harmful germs & bacteria. By using Soapopular® Alcohol Free Antibacterial Foam Hand Soap within your facilities, you can improve staff & patron wellness as well as reduce absenteeism due to the spread of common illnesses.
Health Canada DIN: 02510901
---
CFIA Certified
---
Product Code: 10004
---
Size: 4L / 135 0.z
---
Odour/Scent: Mild Scent
---
Colour: Clear/Colourless
---
Formulation: Liquid
---
Active Ingredient: Benzalkonium Chloride USP (0.15%)
---
Applications: 10,000
Weight: 40 lbs.
---
Units per Case: 4
---
Cases per Pallet: 48
---
Pallet Rows: 4
---
Box Dimensions: 12.15in x 12.15in x 12.05in
---
Use the 4L Refill Jug to refill Soapopular Automatic and Manual dispensers by carefully pouring product into the dispenser bottle.
Alternatively, you can add the Soapopular® 4L Foam Pump (Sold Separately) on top of the 4L Refill Jug and turn it into a 10,000 application station.